Roasted Beet and Arugula Salad
dicentra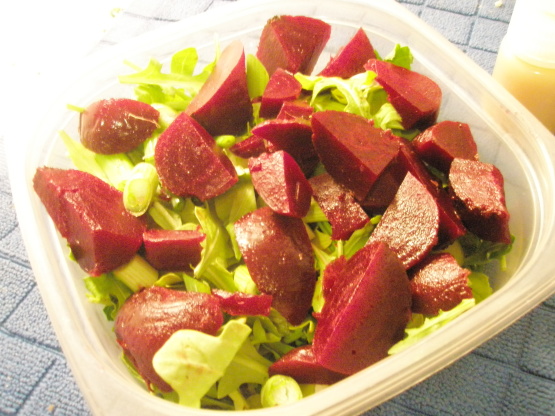 Fabulous salad that tastes like one of those $9 side salads you get out at a really fine restaurant. I used extra virgin olive oil instead of regular vegetable oil. I also sliced the peeled beets and coated with olive oil and roasted them to speed this up a bit, instead of roasting the whole, uncut beet. I arranged each salad separately on each person's separate salad plate and it had that "wow" look and taste!
Preheat oven to 400°F Line baking sheet with parchment or foil. Pierce beets with a skewer or fork. Place on prepared baking sheet and roast until tender when pierced with tip of sharp knife, 1 1/4 to 1 1/2 hours. Set aside to cool slightly. Keep oven on.
Spread nuts in small baking pan and bake until fragrant, 5 to 10 minutes. Let cool; chop coarsely if necessary. Trim, rinse and dry arugula, then tear into bite-size pieces.
Make dressing: In medium bowl, whisk together vinegar, mustard, juice concentrate, shallots, salt and pepper. Gradually whisk in oil. Spoon half of dressing (about 1/3 cup) into small jar or bowl and set aside.
When beets are cool enough to handle, peel and cut each one into 8 or 12 wedges. Add to dressing in bowl and toss well to coat. (If desired, marinate beets, covered, in the refrigerator up to 2 days.)
To serve, in large salad bowl, toss arugula, marinated beets and reserved dressing. Sprinkle with toasted nuts and serve.