Roasted Batatas With Lime-Cumin Butter
awalde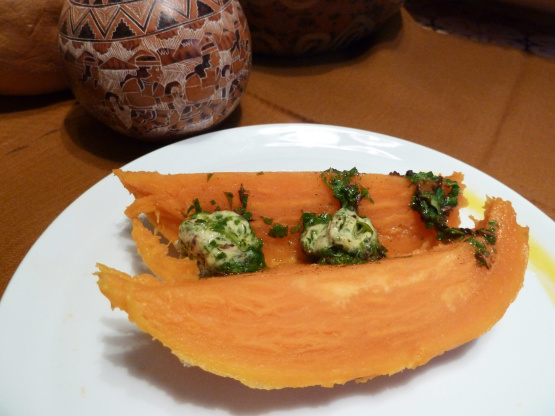 A batata is what most of the world knows as a sweet potato.

Top Review by WiGal
We are sweet potatoe connoisseurs and found this mighty good. I reduced to one serving for hubby and I . Made the dip part with cilantro. The dip makes plenty so also smeared a bit on our corn and still had leftover dip. Served with recipe#247522 and corn on the cob. Thank you Lavender for sharing.
Wrap whole potatoes in 1 layer of foil.
Place in middle of a preheated 400°F oven.
Bake for 1 1/4 to 1 1/2 hours.
While batatas are roasting, stir together butter, lime juice, parsley, cumin, salt, and pepper in a small bowl with a fork until combined well.
Unwrap batatas carefully.
When cool enough to handle, peel and cut crosswise into 1/2-inch-thick slices.
Season batatas with salt and pepper and serve with lime-cumin butter.