Roasted Balsamic Tomatoes
k2oneal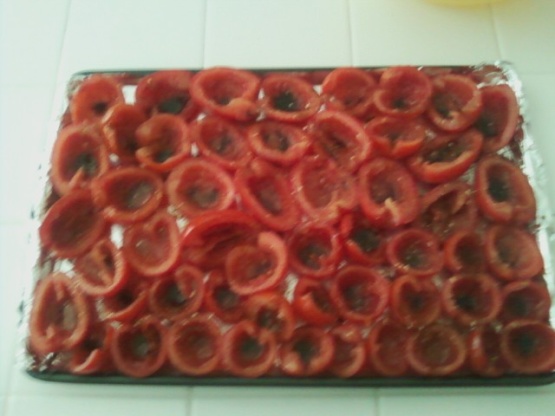 Heavenly. And with very little work, to boot.

Top Review by GinnyP
So aromatic and fresh going from refrigerator to baking pan! I had to pass the dish around and everyone (kids too) agreed. Found out my oven only goes down to 170. No problem. Still slow-roasted for 7 hours. Then had a hard time keeping everyone away before I could decide how I wanted to use them. No problem there, either...they're gone. LOL Didn't have salt-sub, so I used 3/4 tsp Kosher salt. Fantastic! Thanks Miller!
Core the tomatoes and cut them in half horizontally.
Place the tomato halves into a mixing bowl.
Mix the remaining ingredients together and pour over the top of the tomatoes and mix thoroughly.
Marinate for at least 6 hours in the refrigerator.
Remove from the refrigerator and place the tomatoes cut side up onto a wax paper-lined baking sheet.
Place the tomato tray into a 150ºF pre-heated oven and allow them to slow roast for 6½-7 hours.
Remove from the oven and allow to cool.