Roasted Baby Red Potatoes
Anonymous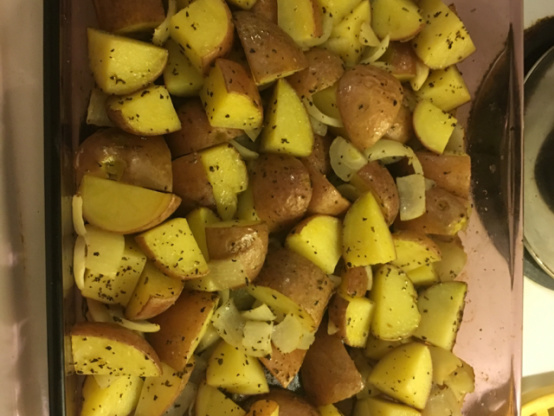 Roasting brings out the flavors of the potatoes, onions and garlic. You choose what color you want to use for the bell pepper.

Delicious! This is so simple to prepare, yet it's so delicious and packed with wonderful flavors. I really liked what the basil contributed, too. Thank you for sharing your recipe, PaulaG. Made for the Pantry tag game (in the Canning and Preserves forum).
Preheat oven to 450 degrees.
Spray an oven-proof dish with non-stick cooking spray. Add vegetables and drizzle with olive oil, tossing to coat.
Sprinkle with freshly ground pepper and salt to taste.
Place dish in oven and bake for 15 minutes, stir and return to oven for an additional 15 minutes or until potatoes are just tender.
Sprinkle with dried basil, adjust salt and pepper as needed, cover and allow to stand for 5 to 10 minutes before serving.