Roasted Baby Potatoes With Herbs
loof751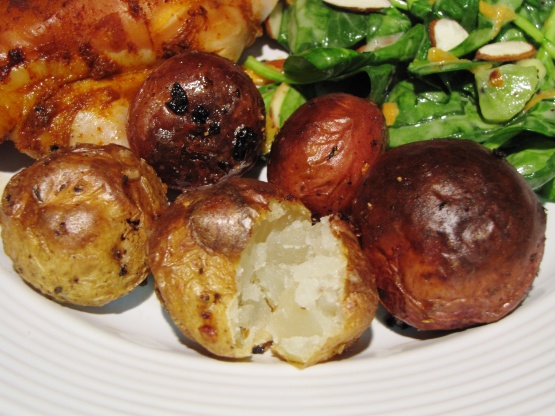 I got this recipe off the Food Network from Giada De Laurentis. Excellent accompaniment to any meat dish, and so simple!

What a great recipe...so easy and soooo delicious! Definately a keeper in my Favorites of 2012. I didn't add any extra oil or herbs to my dish at the end and we really felt that we didn't need to. Served these with recipe#426278#426278 and recipe#190492#190492. Made a perfect dinner. Thank you for posting. Made for Fall Pick a Chef 2012 tag game. Just made this for Spring PAC 2014 and now realized I have already made this...still a wonderful recipe!!!
Preheat oven to 400°F.
Put the potatoes into a large bowl.
In a small bowl, whisk the herbs, garlic, and oil together until blended.
Pour over the potatoes. Sprinkle generously with salt and pepper, then toss to coat.
Transfer the potatoes to a large heavy baking dish, spacing them evenly apart.
Roast the potatoes until they are tender and golden, turning them occasionally with tongs for approx 1 hour.
Transfer the roasted potatoes to a platter
Optional: Drizzle with additional extra-virgin olive oil and herbes de Provence. Serve warm or hot.