Roasted Baby Potatoes and Vegetables
teresas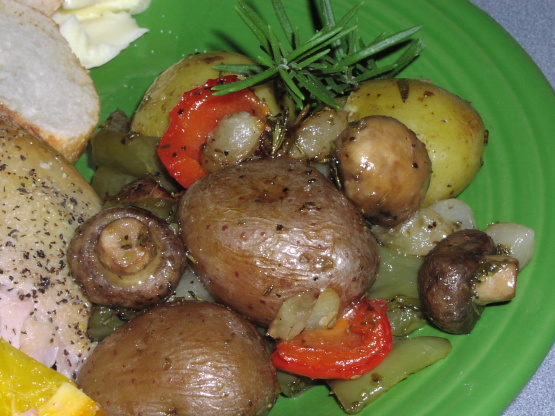 I was at a friends house helping her cook a Moroccan meal, and she needed a side dish of baby red and white potatoes and some vegetables. What I came up with, with her, was this side dish. If you find that there some potatoes larger than others (and there were in the packages she bought), cut those in half.

Top Review by WiGal
A very nice versatile recipe. Followed Teresa's idea about the frozen pearl onions-- left them whole and the tomatoes whole. Had small potatoes but went ahead and cut them about bite size. Used a garlic flavored olive oil from TJ and omitted the butter.Had mine in oven much longer probably another 25 minutes-- only b/ c dh and I were enjoying a lovely evening and this did not burn. Served with grilled pork chops. Thanks for sharing.
Preheat oven to 400 degrees F.
Combine the vegetables and seasonings in a casserole dish. Drizzle with peanut oil and bake for 30 minutes.
Once out of the oven add the butter and mix until butter has melted. Serve warm.