Roasted Aspargus With Scallions and Sun-Dried Tomatoes
Rita1652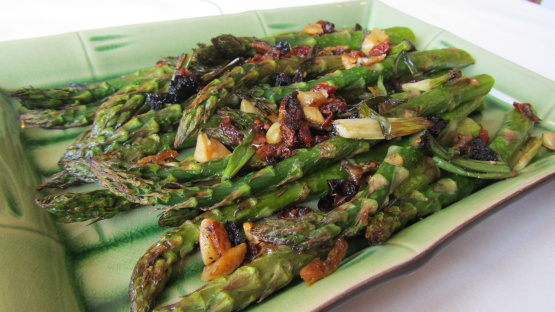 From a local source. Be sure the asparagus spears are of uniform size so that they roast evenly. I used this recipe: Sun-Dried Tomatoes in Olive Oil for making my own homemade sun-dried tomatoes. Saved $$!

So good! I would have never believed that seven minutes was enough to roast asparagus, but really, that's all the longer it took in a preheated oven. I followed the recipe exactly and enjoy the wonderful flavors and the very pretty presentation with the tasty little red specks from the tomatoes. Yum!
Heat oven to 450 degrees.
In a large bowl, combine the asparagus, scallions, and the oil from the sun-dried tomatoes. Toss to coat well. (Time willing, I try to combine the ingredients at least an hour in advance to allow the mixture to marinate.).
Transfer the asparagus to a baking sheet and arrange in single layer.
Season with salt and pepper.
Roast 7 minutes. Stir the mixture and roast until tender and slightly browned, approximately 5 minutes longer.
Stir in the chopped sun-dried tomatoes.
Serve immediately or at room temperature.