Roasted Asparagus With Sage and Lemon Butter
PaulaG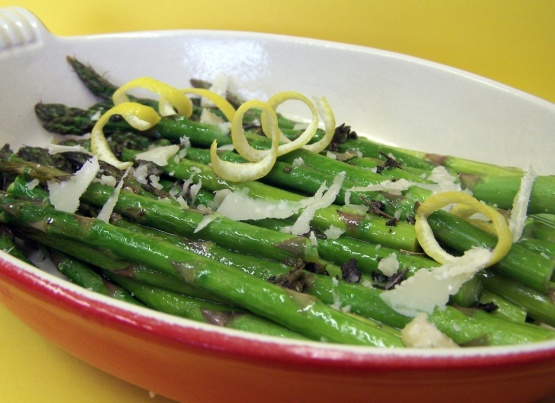 Chef Traunfeld has experimented his whole life with infusing herbs & food. In this dish he uses sage and lemon to create a perfect balance of delicate flavors that embellish a dish yet somehow never overpower it.

OMG to-die-for!! Really? It greatly upsets me that I hadn't found this recipe sooner... and SAGE?! I never knew just how tasty it was until now! My new favorite herb, and this recipe does it wonders!!
Preheat the oven to 450°. Toss the asparagus with the olive oil and 1/2 teaspoon of salt. Spread on a baking sheet and roast in the oven for about 5 minutes, or until the spears are just tender when pierced with a knife.
In a small skillet, melt the butter over moderately low heat. Add the sage leaves and cook, stirring often, until the butter is lightly browned, about 2 minutes. Stir in the lemon juice and 1/4 teaspoon of salt.
Transfer the asparagus to a warmed platter and spoon the sage-lemon butter on top. Garnish with the lemon zest, top with shavings of Parmigiano-Reggiano cheese and serve.