Roasted Asparagus Sprinkled With Feta, Olive Oil and Dill
Bergy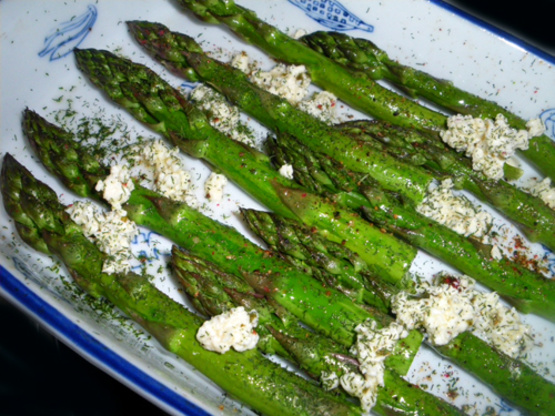 From the Summer 2006 edition of Kerasma's Greek Gourmet Traveler.

This was very nice. I did not have the peppercorns. I didn't measure the olive oil, however, I know that I didn't use as the recipe called for. Added a little garlic powder to the lemon, dill mixture. Thanks for posting!
Preheat oven to 220C (500F).
Toss the asparagus with 2 tablespoons olive oil, salt, and pepper.
Place in a large shallow baking pan in one layer and roast until tender, abut 10-15 minutes.
Shake the pan once about halfway through roasting, to keep the asparagus from burning.
Remove and transfer to a serving plate.
Whisk together the remaining olive oil and lemon juice.
Pour over the asparagus, sprinkle the pink peppercorns, feta, and dill on top, and serve, garnished if desired with a wedge of lemon.