Roasted Asparagus Pasta With Garlic Butter
loof751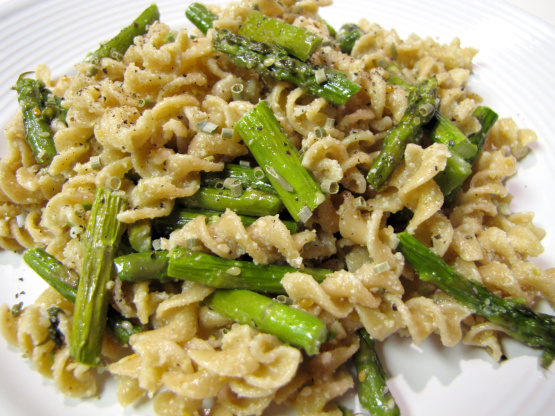 I was sent a link to a wonderful sounding asparagus pasta recipe with balsamic butter by a wonderful friend of mine. It sounded so good, but had a few ingredients that I didnt have on hand, so I created my own version of it. Here it is: An Italian Dish with a small Asian twist to it. I hope youll enjoy it! :)

Delicious! Prepared exactly as written and wouldn't change a thing.
500

g green asparagus, cleaned and cut into 1 inch pieces

3

teaspoons oil

180

g whole wheat penne (or use bow ties or corkscrew macaroni)

1

tablespoon sesame seeds

1 -3

tablespoon garlic butter (for me 1 tbs is plenty, but adjust according to your liking)
1⁄4 cup parmesan cheese, freshly grated
1 1⁄2 tablespoons fresh chives, chopped
salt and black pepper
Boil pasta in salted water according to package directions until al dente.
Meanwhile toss the asparagus with the oil, sprinkle with salt and black pepper to taste and roast in the preheated oven at 200°C/400°F for 10-15 minutes. It should be roasty, but not too dark.
During the last five minutes of roasting add the sesame seeds to get them nice and toasty, too.
Drain pasta and add to a big mixing bowl. Add the butter (as much as you need to get the pasta shiny) and cheese. Mix well.
Remove the asparagus and sesame seeds from the oven and toss with the pasta. Sprinkle with chives.
Enjoy. :).