Roasted Asparagus & Mushrooms
Prep 10 mins
Cook 15 mins
Two of my favorite vegetables: Asparagus and mushrooms. Delish!
Directions
Heat oven to 425 degrees F.
Arrange asparagus and mushrooms on aluminum foil-lined 15x10x1-inch jelly roll pan.
Sprinkle garlic, salt and pepper on top.
Drizzle melted butter over vegetables.
Bake, stirring occasionally, for 15-20 minutes or until vegetables are tender and lightly browned.
Serve immediately.
Reviews
Most Helpful
These are 2 of my favorites, too! THANKS for the idea!!! I will NEVER "boil or steam" asparagus again...this is SOOOOOOOOO good!!!!!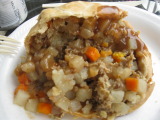 This was very delicious and I "baked" it on one half of my BBQ while cooking striploins on the other half! I didn't have the burner on under the veggies. It probably took 10 minutes to cook, but I wasn't really keeping track. This was terrific with the steak. And the bonus of this recipe is that it only counts for 1 WW point! Made for Photo Tag. Thanks! :)