Roasted Acorn Squash With Spinach and Gruyere
Chipfo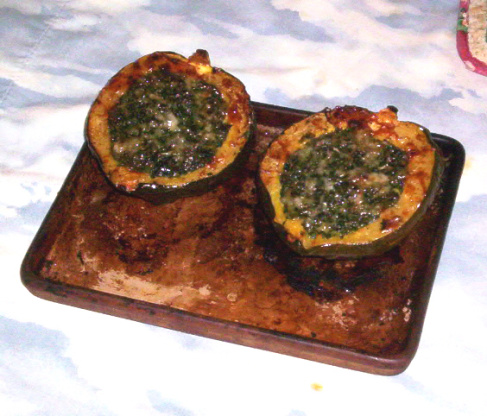 This is another good way to fix acorn squash, Plus get another vegetable(Spinach) to help get your 3 to 5 vegetables. This is an easy to make recipe. The recipe comes from Sunset.com.
Made a few modifications after reading the other reviews but overall really liked the recipe! To increase the flavor of the filling I added chopped onion, garlic, and spices and also added some plain yogurt to address the dryness comments. To serve as a main, I added 1/2 c. of cooked brown rice and then the squash was overlowing with filling but it still looked nice. Will be making this again!
Rinse the squash and cut each in half lenghthwise: scoop out and discard seeds; Place squash halves, cut side down, in a 10-by-15 inch pan.
Bake in a 400 degree regular or convection oven until squash is just tender when pierced, 25 to 30 minutes.
Meanwhile, squeeze moisture from spinach; in a bowl, mix spinach, 3/4 cup cheese and walnuts; season to taste with salt and pepper.
With tongs or a spatula, turn squash halves over and spoon spinach mixture equally into cavities of squash; Sprinkle with remaining 1/4 cup cheese.
Return squash to oven and bake until cheese melts and filling is hot in the center, 15 to 20 minutes, Serve.