dusty AE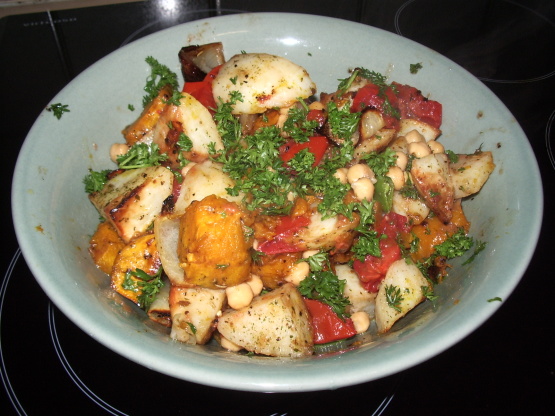 Cannot remember where I found this. I have now tried this. It is very nice. Can recommend it.
This was quite tasty, healthy, and inexpensive. Given that I live in Canada, you'd THINK I'd have assumed the temperature to be in celsius, but I thought it was in Fahrenheit since almost everything else on here is! So it took me more like 2.5 hours to cook but all in all I'm very pleased.
Preheat oven to 200°C Place pumpkin, potatoes and onions onto a large baking tray. Spray with oil. Season with salt, pepper and thyme. Roast 40 minutes. Add tomatoes and roast another 20 minutes.
Transfer to a large bowl. Add chickpeas. Whisk oil, 1/2 cup lemon juice, garlic and sugar in a jug. Pour over vegetables. Add parsley and toss gently. Serve.
Tip-serve leftovers with couscous or pasta for another meal. Can also add 2 cups chopped cooked chicken along with the chickpeas.