Roast Veal With Red Wine Mushroom Sauce
sbhende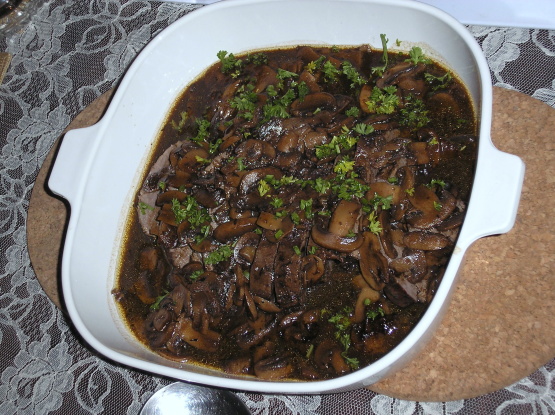 Veal is a favorite of mine but, if you don't care for it then beef will be fine. Fennel makes a nice compliment to this dish.
Season the veal with salt, pepper, rosemary anf thyme. In a heavy, large saucepan, heat the olive oil, and then brown the roast well on all sides.
Remove to a plate while you cook the mushrooms. Add the mushrooms, and 2 tablespoons of butter, and cook until they are softened and beginning to brown.
Add the veal stock and red wine to the pot and bring to a boil. Reduce the heat to a simmer, and return the roast to the pot. Partially cover with a lid, and cook on low for about 20 to 25 minutes for medium rare. Remove the veal to a warm plate, and cover with foil while you prepare the sauce.
Bring the mushroom broth mixture to a boil, and reduce by half. Add the last two tablespoons of butter mixd with the flour, stirring until thickened. Taste, and season with salt and pepper as needed.
Add the fresh parsley and mix well.
Slice the veal and serve topped with some of the mushroom wine sauce.