Roast Turkey Breast With Chipotle-Herb Rub Recipe
gailanng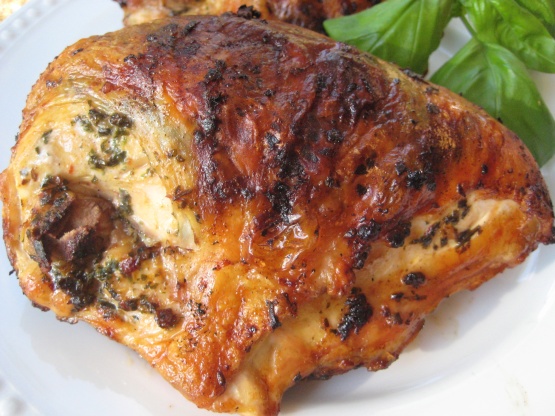 New twist to turkey. This makes awesome sandwiches! This recipes works just as well on the gas grill over indirect heat as it does in the oven....AND it will work in a crockpot also! Very versatile and low fat flavorful!
Preheat the oven to 325°F
Rinse the turkey breast under cold running water and pat it dry with paper towels. Place it in a baking dish and set it aside.
Combine the chipotle pepper, herbs, garlic, salt and pepper in a mortar and pestle or chop them on a cutting board until they form a paste.
Add the olive oil to the mortar and pestle or transfer the mixture to a small bowl and add the olive oil.
Rub the turkey breast with the chipotle paste.
Carefully slip your fingers under the skin and put more paste between the skin and the meat.
Roast the turkey breast in the oven for about 2 hours.
Let the turkey rest at room temperature for about 15 minutes before carving.