Roast Tomato and Basil Soup With Olive Oil Toasts
sharflan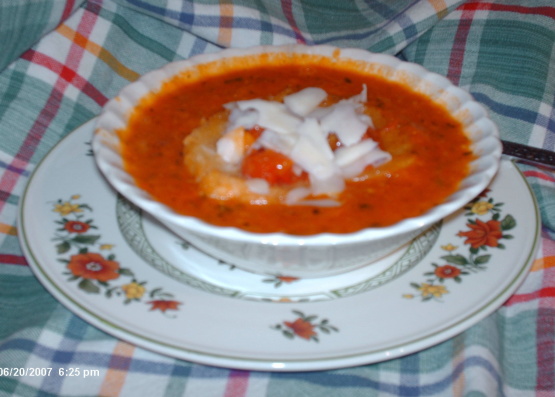 This is a great autumn soup to use up tomatoes fresh from the garden, when they are so full of flavour and the thought of bland, tasteless winter tomatoes in the shops makes you want to cry. As with many recipes I have come to love, this one is from the UK chef Nigel Slater.

It's delicious! The aroma tempted me from the start... I used 3 garlic cloves and unfortunately I had a medium sized red pepper - I'll get a large pepper next time. I only had dried basil on hand (it's just not growing for me this year!) so I adjusted the amount accordingly. At first taste, I found my tomatoes were to acidic so I grated a couple tablespoons of carrot (it neutralizes the acid) into the soup and allowed it to simmer while preparing the table etc. Instead of french bread, I prepared baguette slices, adding a bit of garlic to it before topping it with the tomato & pepper bits. I also shredded a bit of motzarella over the top. We found this to be a delicious, flavorful soup. I'm sure to make it many times in the future. Thank you for a wonderful (and easy!) recipe!!
Pre-heat the oven to 220 C or about 425-450°F.
Quarter each tomato, or cut slightly smaller if they are really big, and place in a roasting tin that is safe for both the oven and stove-top.
Halve the pepper, deseed it and then cut each half into about 3 pieces.
Add the pepper and chopped garlic in with the tomatoes along with the olive oil.
Season with salt and freshly ground black pepper.
Roast for about 45 minutes or until the tomatoes are soft and their skin has started to blacken, but just slightly.
You don't want to incinerate them!
Pour the stock into the roasting tin.
If you don't have a tin that will go on top of the stove you will have to transfer everything into a large pot.
Add in the basil and bring briefly to a boil.
Use a blender to liquidise most of the mixture, leaving just a couple handfuls of tomatoes and pepper behind.
Drain them of any liquid, then finely chop the tomato and pepper.
Season to taste.
Just before you are ready to serve, cut the bread thinly on an angle and toast it under the grill.
Pile a bit of the chopped tomato and pepper in the centre of the bowls and ladle the soup around it.
Float the toast on top and drizzle with olive oil.