Roast Stuffed W/Summer Vegetables (Arrosto Di Vitello Variegato
MsPia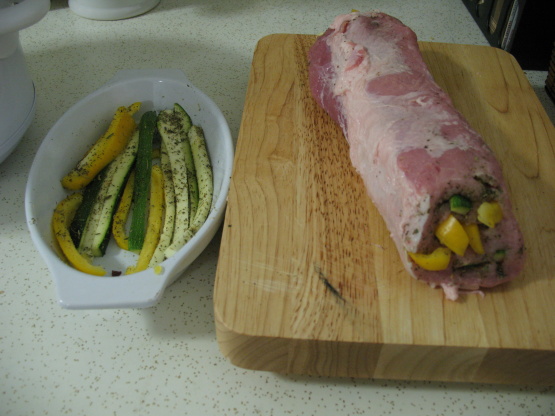 The exact translation for the name of this recipe is "Veal roast variegated". I have to admit that in the 20 years I have been in this country I have never heard the word variegated. I did look it up in the dictionary and it makes sense to me now, but I'm still not sure if I can use on food. There are 4 more recipes that come out of this roast leftovers. I have try 2 of them (I didn't have that many leftovers) When I make it again (and I definitely will) I will try the other 2 and update my comments. I hope you enjoy all my new Italian discoveries. Update#1 : with leftover you can make Insalata Di Arrosto Al Peperoncino. and Involtini Alla Paprica (Rolled Roast With Paprika)
Preheat the oven to 350°F.
In a plastic bag, add zucchini, bell peppers, prosciutto, dry thyme, rosemary and garlic powder. Close the bag and toss it around to evenly cover all the veggies and prosciutto with the herb mixture.
Make some long ways cuts on the roast and insert zucchinis, peppers and prosciutto.
Heat oil in a frying pan with the rosemary spring and brown all sides of the meat.
Transfer meat to roasting pan and discard rosemary spring.
Pour wine and broth over meat into the roasting pan and sprinkle with salt and pepper.
Roast for 1 hour and 15 minutes.
Carve and serve.
Great with red and green tomato salad.