Sara 76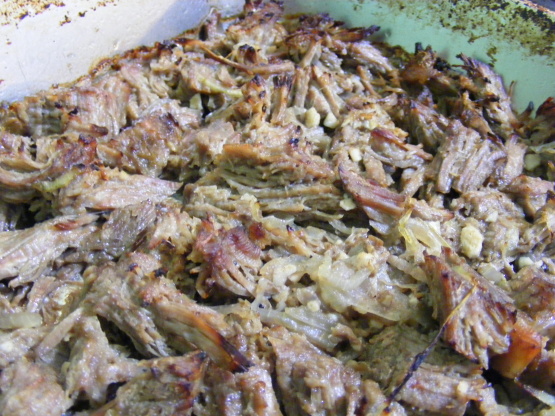 This recipe comes from Madagascar, and was posted for ZWT7. It also works well in the slow cooker, takes around 4 hours on high, then shred it and bake it. It goes perfectly in Shredded Beef Wraps ( Shredded Beef Wraps ), with Honey Mustard Mayonnaise ( Honey Mustard Mayonnaise ). I also think it could be tasty if you added some flour to the leftover liquid to make a gravy, and serve the beef and gravy with mashed potatoes...I had the thought when I was cooing it tonight..think it would be good winter comfort food!

Followed your simple recipe right on down & must say that we had some very nice tasting meat dish! I particularly like the fact that the shredded beef itself was roasted! Another time I'd like to make even more & freeze some in 2-serving packets! Many thanks for sharing the recipe! [Tagged & made in Please Review My Recipe]
1

kg braising steak, cut into 5cm strips
salt and black pepper

2

garlic cloves, crushed

1

medium onion, sliced
Place all the ingredients in a large saucepan, cover with 12mm/½ -inch of cold water and bring to the boil, stirring.
Reduce the heat, partially cover the pan and simmer gently for about 2 hours, keeping an eye on the water level and topping up when necessary, until meat is very tender can be shredded with a fork.
Preheat the oven to 200C, 400F, Gas Mark 6 and grease a wide shallow baking tin. Remove the meat from the saucepan and shred into thin strips using two forks. The meat should be soft enough to pull apart very easily.
Transfer the shredded meat to the greased tin, pour over enough of the cooking liquor to moisten then roast in the oven for 30 minutes until well browned on top.