Roast Salmon With Lime Salsa
Debi9400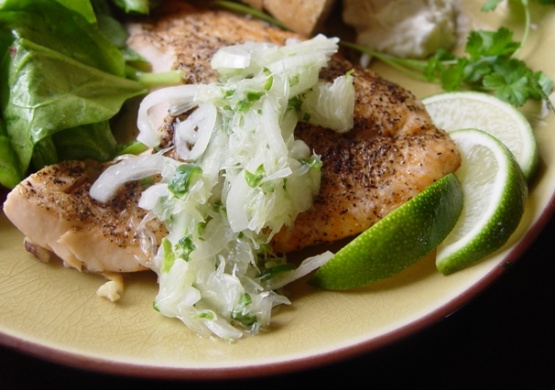 The flavors of this dish merry in pure sunshine! This is how Salmon should taste and Chef Grace Parisi, known for her easy and fabulous sauces, really out did herself this time. Salmon generally pairs well with red; here the tangy lime and sweet red onion salsa tune the choice to a bright fruity Burgundy or Pinot Noir. Two excellent choices are the 1998 Louis Jadot Chorey-lès-Beaune from France and the 1998 Coldstream Hills Yarra Valley Pinot Noir from Australia.

This was delicious! I wasn't sure about the salsa but it was perfect with the simple baked salmon. The market had no red onions so I made do with small yellow onions. Would be prettier with the red but the other worked out very nice flavour wise. I also left out the sugar. Will definitely be serving this again. Easy enough for every day, good enough for company.
Preheat the oven to 425°.
Using a sharp knife, carefully peel the limes; be sure to remove all of the bitter white pith; Working over a bowl, cut in between the membranes to release the lime sections into the bowl; Cut each section crosswise into quarters; Return the limes to the bowl and stir in the onion, cilantro and jalapeño; Add 1 tablespoon of the oil, the sugar and a pinch of salt and toss well.
Heat the remaining 1 tablespoon of oil in an ovenproof skillet until shimmering; Season the fillets on both sides with salt and pepper and add to the skillet, skinned side up; Cook over moderately high heat until golden brown on the bottom, about 2 minutes; Transfer the skillet to the oven and roast the salmon for 5 minutes, or until just cooked through; Transfer to 4 dinner plates, spoon the salsa on top and serve.