PaulaG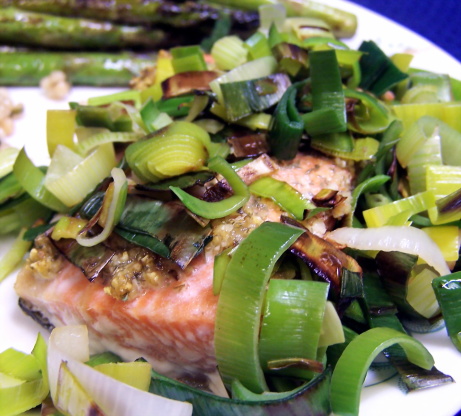 Super quick lemony salmon filets topped with dill and leeks.

This was delicious! I have recently realized that I love leeks, combine that with a delicious fish and you have a yummy dinner! The leeks tasted like they were sauteed in butter and the salmon was perfectly seasoned. I did add a little bit of fresh garlic to the leeks when I cooked them. I will definitely make again and again! Thank you for posting this recipe!
Combine zest, dill, salt, pepper. Using 1 tablespoon oil, brush fish with oil and top with lemon-dill mixture.
Place salmon on pan and roast in 425 oven until cooked, about 15 minutes.
In skillet, saute leeks in remaining 1 tablespoon oil. Season with salt and pepper.
Transfer salmon to platter and top with leeks.