Roast Rack of Lamb With Persillade
Bergy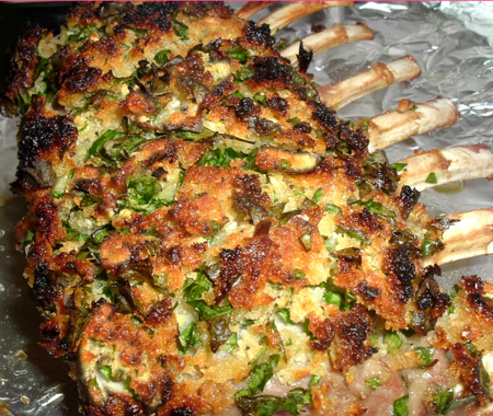 From Mark Bittman's 'How to Cook Anything.' I've made this numerous times. It is simple and delicious. I've used the fresh bread crumbs, but panko works quite well, too.
The only adjustment I made is to add some dried rosemaries. Did everything else exactly according to the recipe. Definitely a keeper. Thanks for posting!
Preheat the oven to 500 degrees.
Trim lamb, leaving a layer of fat over the meat.
Cut about halfway down between the chops; This allows the meat to become crisp.
Combine all the remaining ingredients and rub over the racks.
Roast for 20 minutes and then put an instant-read thermometer straight in from one end through the meatiest part.
If it reads 125 or more, remove from oven immediately.
If it reads less, leave it in for 5 more minutes, no more.
Let sit for 5 minutes before separating the ribs.