Roast Potatoes With Lemon and Coriander
awalde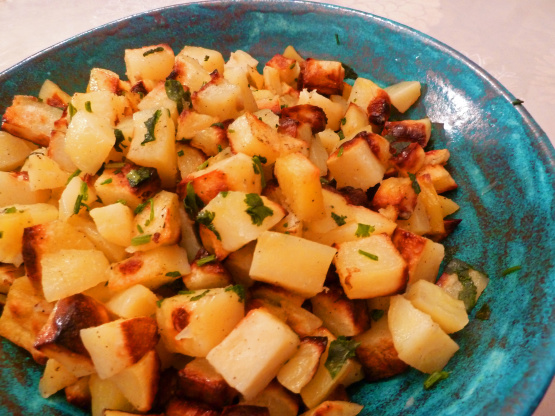 Recipe comes from "A Taste of Morocco, Turkey and Lebanon" by Claudia Roden. I have not tried it yet, but it is on my short list of recipes to try.

Top Review by awalde
We liked these potetoes very much. They made a great change to the usual rosemary ones!
I baked them on a silicone sheet; in this was it was very easy to transfer them to the bowl without demaging them.
I love coriander really a lot!
I distributed them in layers (potatoes, coriander, potatoes, coriander) and at the end I added the lemon juice.
Really easy and tasty! Soo yummy! This reacipe is really worth to try!
Boil the potatoes in salted water for about 10 minutes, then drain and transfer to a wide baking dish. Cut them into 1/2 inch cubes and sprinkle over some salt and pepper, the olive oil and the garlic. Mix and turn the potatoes so they are coated all over with the oil.
Roast the potatoes in a very hot oven, preheated to 475 degrees, for 30 minutes, or until they are crisp and brown. Remove potatoes and sprinkle evenly with the lemon juice and chopped coriander, and mix well (being careful not to break the potatoes).