Roast Potatoes With Herbs
Lalaloula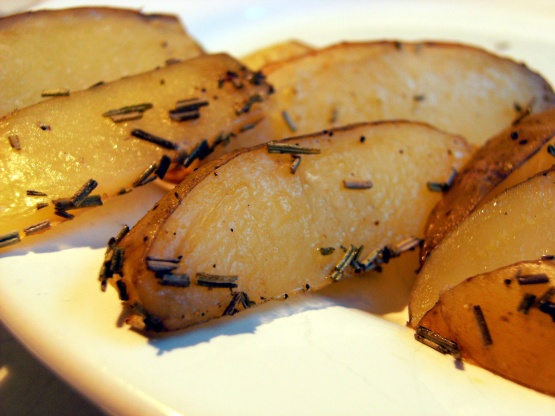 Delicious way to prepare potatoes and really simple. You can use an herb of your choice--basil, thyme, oregano--or a mix of herbs.

What a great, healthy, easy and yummy recipe!
I used a blend of Italian herbs and the wedges came out soft in the centre and really yummy!
THANK YOU SO MUCH for sharing this great recipe with us, Lorrie. Ill make it again.
Made and reviewed for the Potato Event in the Photo Forum September 2010.
Cut each unpeeled potato into 8 spears. Place in mixing bowl and toss with olive oil, garlic, salt, and pepper.
Marinate at room temperature for 30 minutes.
Preheat oven to 350°.
Spread potatoes in roasting pan and bake for 45 minutes, tossing occasionally with spoon.
Sprinkle with rosemary and continue roasting until potatoes are crusty brown, about 15-20 minutes.
Cool a few minutes before serving.