Roast Pork With Onion Stuffing

This is a family favorite. I adapted it from "My Great Recipes." You won't believe how creamy and delicious the onion stuffing tastes. Fresh-ground nutmeg really makes it shine, but ready-made will do in a pinch! :) The pan dripping gravy is fabulous, too. Active work time takes place while roast is cooking.
Directions
Preheat oven to 325. Rub roast with oil and sprinkle with thyme and salt and pepper. Roast until meat registers 170 degrees (about 2 hours).
Meanwhile, melt butter in medium frying pan. Add onions and cook for ten minutes until soft.
Add flour, chicken stock base, nutmeg, lemon juice, and 1 cup water. Cook until thickened and creamy.
Remove roast from oven, and slice almost through (I make the slices about 3/4" thick, you make them whatever thickness you prefer for single servings.).
Stuff with onion filling, and spread any extra over the top of the roast. Return roast to oven and bake about 30 minutes more, until top is nicely browned.
Remove roast from pan and cover to keep warm while making gravy.
Stir one cup of water into pan drippings, then add cornstarch/water mixture and stir until thickened. (You may want to put the roasting pan on a burner on low heat to get the gravy to the right thickness.).
Most Helpful
This recipe was recommended by Chef #482933. It has a great unique flavor! The nutmeg (we used freshly grated) is mild, but adds definitive flavor to this dish. I used all the ingredients as specified, but changed the cooking technique a bit. I used boneless pork chops and seared them in a skillet. I then removed them from the pan and made the onion stuffing in the same pan. I then placed the chops onto a baking sheet lined with parchement and placed the stuffing on top of each chop. I broiled them for about 8 minutes (not close to the heat though) till it was golden brown on top, and served. :)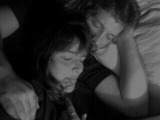 Featured in my Book#237470. Originally posted on Jan. 15, 2008. This is deliciously perfect, I have made this many times.

Very good. This recipe is fairly easy to make, and didn't require much active work time. I had a 3 pound pork loin, and cut the onion mixture in half, using two large Texas 1015 onions. This was plenty for our tastes. The pork was very tender, and the gravy was delicious over mashed potatoes. To kick up the flavor just a bit, bringing out the sweetness in the onions, next time I will add some sherry to the onion mixture. I will make this again. The recipe was chosen for Pick A Chef Spring 2008.