Roast Pork With Apples and Cream
Linky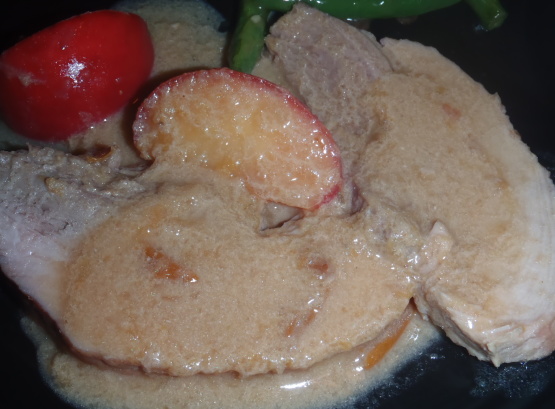 A perfect entertaining dish for Fall. This recipe is taken from Renny Darlings' "The Joy of Eating French Food". I am fortunate to have her collection of cookbooks and they are wonderful!

Top Review by Linky
This was good, but I must have missed something. It had less "zing" than I expected. I'll have to adjust next time - maybe a little horseradish? Some fresh ground pepper? The apples were a perfect complement, although I cut them in wedges and did not peel. made for Football 2014
1

pork loin roast, approximately 4 lbs
salt, pepper and garlic powder for seasoning the roast
1⁄2 cup white wine

2

tablespoons butter
1⁄2 cup apple jelly
1⁄2 cup applesauce
1⁄2 cup cream

3

apples, cored and cut in half crosswise

6

tablespoons brown sugar
1⁄2 teaspoon cinnamon
Place roast in a 9 x 13 inch roasting pan and bake at 350 degrees for about 45 minutes to 1 hour. Drain off all fat. In the same pan, heat together the wine, butter, apple jelly, applesauce and cream until well blended. Return the roast to the pan and place apples around roast. Sprinkle with brown sugar and cinnamon. Baste pork with wine mixture, every 15 minutes, until pork is cooked through and meat thermometer registers 175 degrees. Serve pork surrounded with apples.