GaylaJ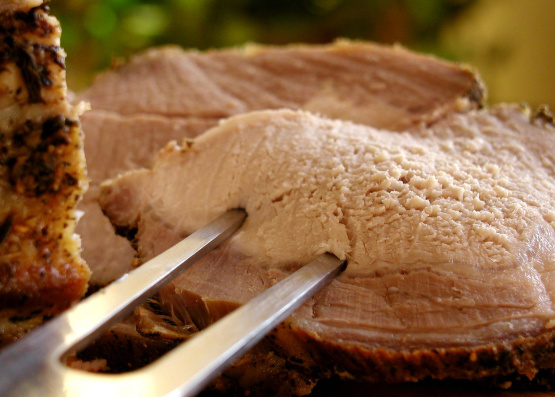 The herb rub nicely flavors the pork. This recipe is originally from epicurious.com. Preparation time includes 8 hour "marination."

I had a small pork loin (smaller than called for) and used amount of herbs and spices called for. I placed all the spices in a zip top bag and then added the pork loin and massaged the spices in through the bag. I let it sit for probably 16 hours in the fridge before I roasted this. This recipe was super easy, tasted great, and my DH loved the leftovers on sandwiches the next day.
Combine first 6 ingredients in a small bowl.
Rub mixture evenly over the roast.
Cover and refrigerate at least 8 hours, turning roast occasionally.
Preheat oven to 350 degrees.
Place rack in roasting pan and place pork on the rack.
Roast until thermometer inserted in center of roast registers 160 degrees F (about 1 hour 25 minutes.).