Roast Pepper Spread With Walnuts and Garlic
GaylaJ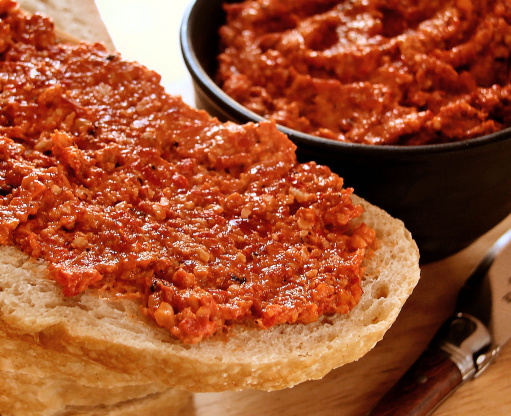 Great stuff ... from Mark Bittman's "The Best Recipes in the World". This spread can be served with bread or vegetable sticks, but it is also wonderful as a sandwich ingredient. It can be made hours or even a day in advance, but always let it come back to room temperature before serving.

Muhammara is an amazing and unique spread/dip! Your recipe is wonderful. Next time, I'll try to reduce the number of calories by reducing the olive oil.
Make sure the peppers are without seeds. Combine them in a food processor along with the walnuts, garlic, olive oil, the grated zest of the lemon, and the cumin.
Pulse to process so the ingredients are pulverized but not pureed; you want a paste, but one with a little texture. (If you are feeling energetic and have a mortar and pestle, you can also process by hand.).
Transfer the paste to a bowl and add the juice of the lemon, hot red pepper flakes, and salt. Taste and adjust seasoning.
Serve, or cover and refrigerate for a day or two (bring back to room temperature before serving).