Roast Leg of Lamb, Cape Style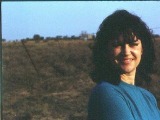 Total Time:
Prep Time:
Cook Time:
3 hrs 20 mins
25 mins
2 hrs 55 mins
My mother always believed that a leg of lamb or mutton should weigh in excess of 5lbs, otherwise it's not worth her while! This is the age-old method used to marinade the leg before roasting. Apart from gravy and side dishes, it's usually served with home-made garden mint sauce. I have no formal recipe for this: I guessed the amounts. Adjust to your taste.
My Private Note
Directions:
1

Trim the leg, but don't cut off the fat unless the leg has an excessive layer of fat. The fat is part of the deliciousness, and prevents drying out out the meat during roasting.

2

Using a small pan, roast the coriander -- shake the pan so it does not burn. Roast just until you can smell it, or it starts to catch.

3

In a mortar and pestle, crush the coriander slightly. The seeds do jump around, so hold one hand over the mortar!

4

Slice the garlic cloves into strips, and chop the bacon. Keep a small pile of dried thyme at hand.

5

With a sharp paring knife, stick slits all over the lamb and on the underside. These can be enlarged with a finger. Roll a sliver of garlic and a piece of bacon in the dried thyme, and stuff into each slit.

6

Put the leg in a non-reactive glass or ceramic dish -- an oval-shaped one is best, or use a suitable rectangular Pyrex dish.

7

Pour the red wine over the lamb, to come up halfway.

8

Take a palm full of coriander seeds and rub over the lamb, also on underside. Sprinkle the rest over and also into the red wine, along with more garlic and thyme.

9

Marinate the lamb for at least 24 hours, but preferably 2 - 3 days. Turn once or twice every day.

10

To roast, heat oven to medium, 350 deg F/180 deg F.

11

Lift leg out of wine and into an oven roaster. Do not use the wine marinade, as it often turns a little bitter, but keep some to add to the gravy later.

12

Add no more than 1/2 cup water to the roaster (preferably the oval tin type). If leg is lean, dribble over cooking oil. If the leg has a nice layer of top fat, no oil is necessary.

13

Roasting time is hard to prescribe: it was usually calculated at about 25 minutes per lb. plus 25 minutes extra. It all depends on whether you have a tender lamb which you'd prefer to keep slightly underdone, or an older, muttony leg which might need enough time in the oven to cook through.

14

I will calculate the time given here on a 6lb leg of lamb @ 25 minutes per pound, but that might be too long for a tender leg.

15

When done, lift on to a serving platter. Skim off most of the fat, and if your roaster is okay with it, put it on a stove plate. (Otherwise decant all juices and bits to a small pot).

16

Use beef stock (use granules or whatever you have) to make 3/4 cup of stock, and add 1/4 cup of the leftover wine marinade. Whisk in 2 level tablespoons flour. (I would use Bisto, but I can see the shocked expressions -- don't worry, this way Bisto makes excellent gravy).

17

Whisk the stock into the pot or roaster with the scrapings and juices, and stir until it starts bubbling and thickens. Taste -- it might need more salt and will certainly need black pepper.

18

Anoint the leg with a couple tablespoons of gravy.

19

As the leg was not salted, put the salt pot on the table.

20

Serve with yellow rice, the gravy, stewed green beans, a carrot side dish and roast potatoes. With whatever salad you like -- and mint sauce, which will be posted separately.

21

A mellow S A Merlot or Pinotage would go well with this. And please see that the carver does his job correctly -- against the grain.
Nutritional Facts for Roast Leg of Lamb, Cape Style
Serving Size: 1 (384 g)
Servings Per Recipe: 6
Amount Per Serving

% Daily Value

Calories

949.0

Calories from Fat 525

55%

Total Fat

58.4

g

89%

Saturated Fat

24.2

g

121%

Cholesterol

263.5

mg

87%

Sodium

348.0

mg

14%

Total Carbohydrate

6.4

g

2%

Dietary Fiber

1.4

g

5%

Sugars

0.8

g

3%

Protein

72.7

g

145%
Ideas from Food.com
Pop a bottle, cook some special dishes and celebrate the season.

---
Over 475,000 Recipes
Food.com Network of Sites