Roast Lamb With Tomatoes and Artichoke Hearts
Parsley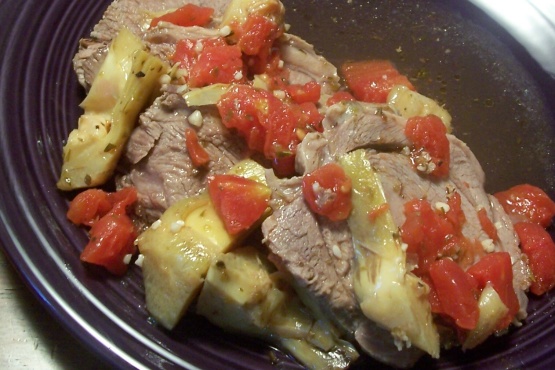 This is an easy lamb recipe. Works on the stovetop in a pot on med-low, too.

Outstanding flavor!!! I made slits in the roast, and stuffed each one with a clove of garlic, and also added some fresh chopped rosemary. I served it with smashed red garlic potatoes.......this recipe is a "keeper"!! Thanks, *Parsley*
Preheat oven to 350°F.
Place lamb into a roasting pan and rub lamb with parsley and oregano.
Add wine, diced tomatoes (and juice), artichoke hearts (and juice), garlic and pepper.
Cover and roast, basting occasionally with pan juices, for 70-90 minutes, or until desired doneness is reached.
Allow to rest for about 15 minutes before serving.