Roast Garlic Balsamic Vinaigrette
Bayhill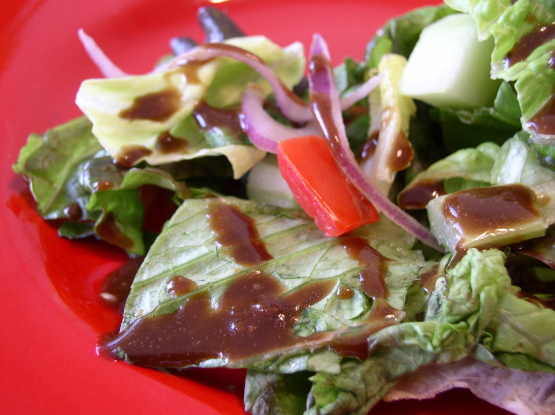 This simple dressing is so easy to make and tastes great. Drizzle a little on a slice of fresh roma tomato with some whole milk mozzarella and basil. You'll never eat at Olive Garden again. See my Roasted Garlic Oil, if you need to.

I would make this again but changing the ratio of the vinegar to oil to equal parts. The garlic oil truly is divine, but the balsamic vinegar overpowered it.
In a small sauce pan, mix the balsamic and the sugar. Heat on low and reduce by half.
Pour balsamic reduction into a blender and add the mustard and the salt and pepper.
Cover and start blending on low.
If your blender lid has the small cap, remove it and slowly pour in the oil.
Once all the oil is poured in, put the small cap back on and blend on high for about a minute.