saucywok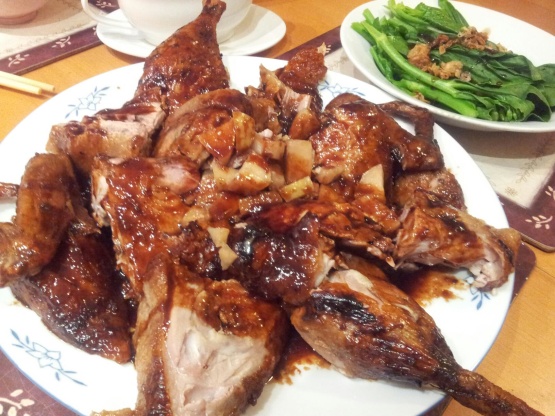 I found this recipe on the internet and modified it slightly. This is the best roast duck recipe I have made so far. The combination of seasonings goes very well with the duck and the l'orange sauce. I used the skin, bones and drippings to make a soup base that was out-of-this-world good!

This was a great recipe. My duck was 5.5 lbs. and thawed, and it took about 2 hours to cook. I did double the sauce, as others suggested, and I let it thicken quite a bit, so it's a good thing I doubled it. I didn't have orange juice, so I substituted the orange sauce packet that came with my duck, and the sauce was delicious. Otherwise, other than putting a ton more garlic in, I followed the recipe exactly. I also brined the duck for about 2 hours before I cooked it, and the end result was a very moist inside and a crispy outside. It was great. Definitely an easy, tasty duck recipe. Thanks!
Sprinkle chili powder, garlic powder, and salt all over ducks.
Cut 1-inch slice in skin of ducks on both sides of breasts.
Puree garlic, sage and olive oil and fill in slices in skin with mixture.
Chop apple into 1-inch pieces and stuff inside ducks.
Bake at 350*F (175*C) for 1 hour 30 minutes for a slightly rare duck, or 2 hours for a well done duck.
Put the ingredients for the L'Orange sauce in saucepan and heat until alcohol simmers off, about 6 minutes.
Serve L'Orange sauce over sliced duck breasts or other parts.
Makes about 1 cup.