Roast Chicken With Tomato-Olive Sauce
Ms B.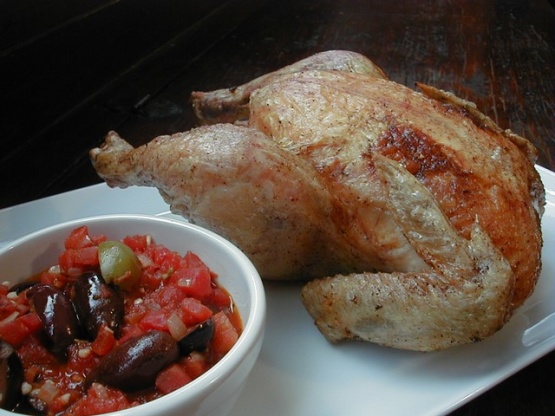 I adopted this recipe. For my trial run of the recipe, I prepared the chicken using the roasting method in Mermaid's Tender Roast Chicken. It was an incredibly moist and flavorful bird. The Tomato-Olive sauce is bright with fresh flavors and the perfect salty compliment. This is simple and fabulous. The recipe can be done with grilled breasts or thighs as well. Recipe from Patricia Wells.

Patricia Wells via Mean Chef - spells outstanding recipe. This tastes like something out of her best book, Bistro Cooking (a cookbook lent to a wowed dinner guest who never returned it)...prepared as directed w/o bothering with the thermometer - 80 minutes @ 400 degrees F made a crispy skinned tender chicken - seasalt & freshly ground black pepper the only embellishments. Made the olive-tomato sauce with a 28 ounce can of tomato strips with basil & fresh rosemary - otherwise as directed & wow! This was great! Served with steamed rice - fantastic meal to be on our regular rotation. Thanks for saving this one, Ms. Bold!
Remove giblets from chicken; rinse the chicken and pat dry.
Put on a rack in a roasting pan and brush with butter.
Sprinkle with salt and freshly ground black pepper.
Roast in a preheated 400-degree oven for 1¼ to 1½ hours or until the internal temperature reaches 180 degrees in the thigh on an instant-read thermometer.
Baste the chicken occasionally with the drippings.
While the chicken is cooking, prepare the sauce.
Bring a pan of water to a boil.
Add tomatoes and remove from the heat; set aside 30 to 60 seconds or until skins begin to crack; drain.
Peel, seed and coarsely chop tomatoes.
In a large skillet, heat olive oil over medium heat.
Add onion and garlic; sauté 5 minutes.
Stir in tomatoes, rosemary, thyme, marjoram, basil, fennel seeds, wine, green and black olives.
Bring to a boil, reduce the heat and simmer 30 minutes.
Stir occasionally.
Season sauce with lots of pepper.
(Additional salt may not be necessary because of the saltiness of the olives.) Stir in parsley.
Carve chicken and serve with a bowl of sauce on the side.