Roast Chicken With Italian Seasonings
Derf2440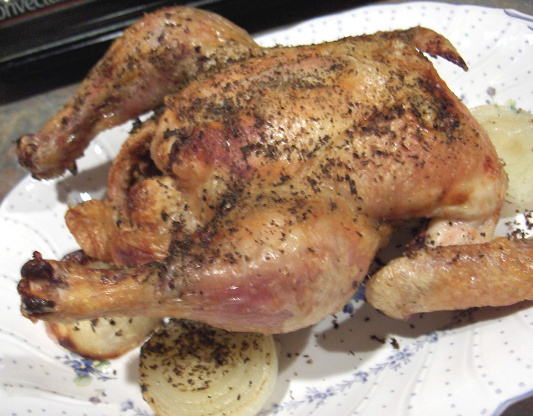 Several years ago, I noticed a post on some random cooking site asking for help with dry roast chicken. Someone suggested the 'flipping' method described below. I've been using it ever since, and it works! The actual recipe is a very basic one I found in a little paperback book at the grocery. You can replace the Italian seasonings with any others you prefer, but I think you'll find the general method gives great results. Exact cooking time will vary somewhat according to weight, of course.

I followed the recipe EXACTLY as written but had to move the chicken and onions from the broiler pan into a regular roasting pan after the first 30 minutes of cooking... The amount of smoke generated while using the broiler pan was incredibly alarming! I've never seen anything like it. I don't know if it was because of my particular pan, or my oven (mine is electric), but that is the reason for my 3 star review. The chicken itself did come out rather tasty and was quite moist. I would recommend this recipe - just use a roasting pan instead (if not have your extinguisher ready!!).
Preheat oven to 450 degrees F.
Cut onions into thick slices (approximately 1/2").
Using a broiler pan with rack in place, lay onion slices on rack to form a'bed' on which the chicken will sit.
(The rack will allow excess grease to run off; the onions will impart nice flavor and will prevent chicken from sticking.).
Remove giblets from cavity of chicken; rinse well with cold water and pat dry.
Using a pastry brush (or your hands), coat entire outside of chicken lightly but thoroughly with olive oil.
Sprinkle with salt, pepper and Italian seasonings (amounts given above are just general guidelines listed in the original recipe-- it's better to sprinkle evenly all over rather than trying to measure exactly).
Place chicken on top of onion slices BREAST SIDE DOWN; cook for 30 minutes.
Remove from oven; reduce temperature setting to 400 degrees F.
Carefully turn chicken over so that the breast side is facing up; return to oven for an additional 45 minutes, or until done.
Allow to rest 10 minutes before carving (IMPORTANT STEP!).