Roast Chicken Stuffing With Cranberries and Thyme
Annacia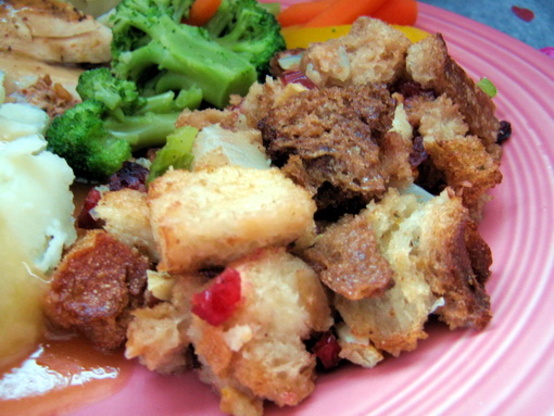 I used a combination of recipes and ideas to make the ultimate stuffing recipe :) It's very quick and easy, but most importantly - DELICIOUS!
If you only have fresh bread, take a few slices out about an hour before hand so it goes a bit dry and stale, and tear it into small pieces (this is WAY better than packet crumbs).
Saute the onions and garlic with a little olive oil in a pan until translucent.
Season with thyme, rosemary, salt and pepper.
Add cranberries and stir through.
Add chicken stock and allow to simmer for around 2-3 minutes, until it has reduced by about 1/3.
Add the bread pieces and stir through, and remove from heat straight away.
Make sure all ingredients are well combined and add a generous squeeze of lemon for that extra kick. Set aside to rest and cool while you get your chook ready before stuffing.
Bon apetite.