Derf2440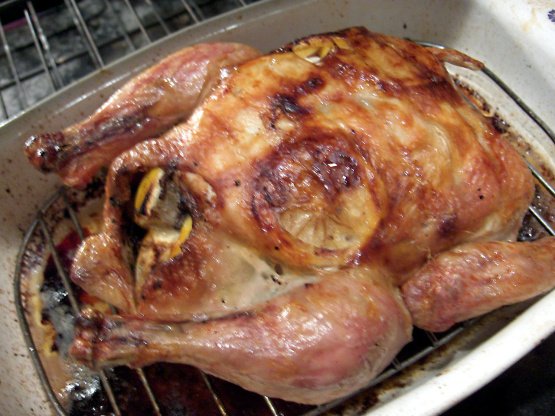 I don't think anyone originated this one. It's bits and pieces I've read in books, seen on cooking shows, and observed in friends kitchens over the years. I just assembled it in it's present form. It's not mine even if it does have my name on it. My Mother used to say, "NEVER ROAST A CHICKEN! The oven's hot so it doesn't cost any more to roast two of them and you can always find a use for a bit of chicken." She's right, cook them in pairs, they're more comfortable that way. Chop and/or shredd the leftovers, put them into freezer bags, 1/4 lb per bag. LABEL THEM! After they're frozen gather them into a gallon ziplock to keep control of them.

First time I've tried roasting a chicken breast down, it made for a very tender, moist meat, lovely! Just did one this time but would certainly think about doing two another time. I used lemon, rosemary, thyme and sage, resulting in a wonderful flavour. I couldn't resist, I turned it over for the last 35 minutes to brown and crisp up the breast skin. Thanks for a great recipe, next time I will try the limes.
1

whole chicken (2 is better, double seasonings if making 2)

2 -3

sprigs whole fresh herbs (thyme or Rosemary are good for the first time but try others, play with it)
1⁄2 teaspoon kosher salt

2

tablespoons ghee (won't burn like butter will)
Preheat oven to 350f.
Trim excess fat from bird(s).
Wash, pat dry with paper towels.
Salt and Pepper the cavity.
Stuff herbs into cavity.
Cut Limes in half, fill cavity full.
From the neck opening work your fingers between the skin and the breast on each side.
Work 3-4 slices of Lime into each of these pockets.
Rub outside of bird with ghee.
Lightly Salt and Pepper outside of the bird (s).
Tie legs together with cotton kitchen twine.
Tuck excess neck skin into throat opening.
Place, breast side down, on a roasting rack in an appropriate size pan.
Roast 1 3/4-2 hours,'til juices between the leg and thigh run clear.
Remove to platter, tent with foil, let rest 20 minutes.
Serve with any side dish you like that can be baked at the same time.
One of my favorites is to bake whole Russets,Yams, or Sweet potatoes and mash them as you would boiled potatoes, preferably with whole roasted Garlic folded in carefully to keep the garlic as whole as possible.