Roast Chicken Legs With Basil and Garlic-Core Ww Friendly
strochka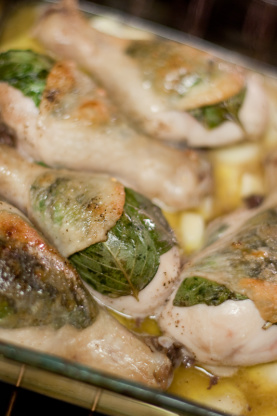 Prevention's Good Health Cookbook-1994. These succulent chick legs are incredibly easy to prepare: Just season them with fresh herbs, then pop them into the oven with garlic and potatoes. The whole dish is quite low in sodium, so anyone with high blood pressure can enjoy it often. Nutrition Info. From Cookbook: Calories...439 Fat...10.5 g. Sat. Fat...2.6g. Cholesterol...89 mg. Sodium...106 mg.

What a great recipe! I made some adjustments to it, but it still turned out amazing. I've used 5 legs only, added the basil leafs and garlic. Instead of adding the lemon slices, I just poured the lemon juice out of the whole lemon, and added about 1/3 glass of white wine. Baked it for 30-40 min on 375. And then 8min on each side on broil (500). It was soooo goood!!! Thank you so much!
Remove all visible fat from the chicken and trim excess skin, leaving just enough to cover the pieces. Carefully lift the skin on each piece and slice 2 basil leaves under it. Replace the skin.
Separate the garlic bulb into individual cloves. Trim the hard end off each clove and remove the peel. Trim any bruises and discard any cloves that are soft or dark. There should be about 12 to 15 whole cloves.
Place the garlic in a 9"x13" baking dish. Top with the chicken.
Squeeze the juice from half of the lemon over the chicken. Remove the seeds from the remaining lemon half and cut into 4 pieces. Add these to the baking dish.
Cut the potatoes lengthwise into spears. Add to the dish. Drizzle with chicken and potatoes with the oil. Sprinkle with the pepper and paprika.
Bake at 350 degrees for 45 to 50 minutes, or until the chicken is tender. Remove the skin before eating.