Roast Chicken in the Crock Pot
Boomette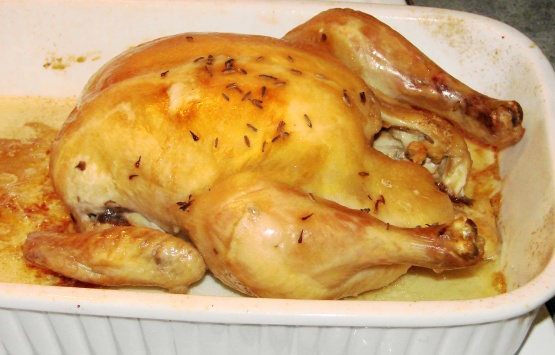 I'm going to be using this a *lot this fall and winter. Two and a half hours in the old crock pot followed by a 10-minute broil gives me perfectly roast chicken every time

First off, let me say that the flavor of this chicken is really great, and the house smells terrific! I had some difficulty getting my bird to cook through, though, despite following the guidelines of time for its weight. I had to do a fair amount of emergency microwaving in the 11th hour with hungry kids hovering because it all smelled so good LOL. I am not leaving stars, then, until I have a chance to try again. I have often suspected that crock pots are quite inconsistent in temperature, so maybe mine wasn't as hot on the "high" setting? At any rate, I am still thrilled with the flavor, and it was great to just remove the foil, throw in the carcass and some water, and leave the crock pot going over night to make some FANTASTIC stock. Because of that this recipe is truly a double blessing :). Thanks, Annacia!
Crumple three pieces of aluminum foil and place in the middle of your slow cooker.
Add wine, garlic, onion, celery and carrot.
Place chicken on top of aluminum foil. (You may have to push the chicken down a bit so it'll all fit in there!).
Sprinkle chicken with herbs, salt and pepper.
Set slow cooker to high and cook for 1/2 hour per pound.
When ready, stick a meat thermometer into leg to ensure it is done. Transfer chicken to a roasting pan and set oven to 500º Fahrenheit.
Roast for 8-10 minutes, or until skin is golden brown.
Serve with roast root vegetables, mashed potatoes, or anything else you'd like!
The best part of this recipe? After your done cooking everything, you'll have a considerable amount of jus left over from the chicken. Whisk it with some cornstarch for a truly delicious gravy, or save it in your fridge or freezer for at-the-ready soup stock when you need it in a pinch. (It's so much better than bouillon.).