WiGal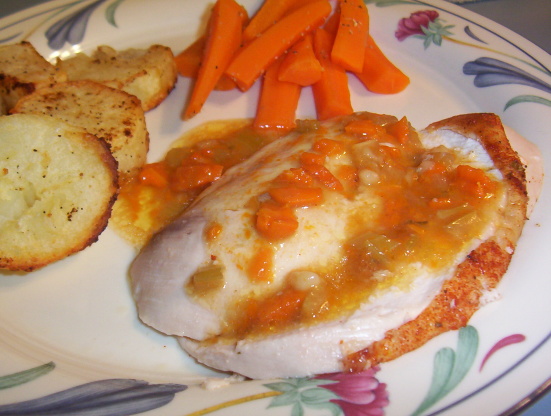 This is a Pampered Chef recipe that is wonderful! I usually make a large enough chicken or double the recipe to make Chicken Chili the next day.

Top Review by WiGal
OMG-this is so good! My chicken was a bit less than 4 pounds, so I had it in the oven for a total of 1 hour and 20 minutes-1 hour 5 minutes covered & 15 minutes uncovered; and then tented for 10 minutes. Somewhere I read to cook chicken at 400 degrees 45 minutes per kilogram so that is what I did. Served with oven roasted potatoes and steamed carrots with the sauce poured over the chicken. I did add a vegetable based broth to the juices before thickening with flour/water mixture. Thanks min_1 for posting a keeper! Made for Fall PAC '08.
Preheat oven to 400 degrees.
rinse and pat dry chicken.
slice off top quarter of each garlic head to expose garlic cloves. Separate cloves and discard loose paper skin, but do not peel the cloves. Place ten cloves in cavity of chicken.
Chop Parsley and set aside 1 tablespoons Place the rest in the cavity.
Rub outside of chicken with salt, pepper and paprika.
Coarsley chop carrot and celery and place in roasting pan.
Place chicken over vegetables and cover.
Bake chicken for 1 hour and 15 minutes.
Remove lid and continue baking for 15-30 minutes or until thermometer registers 180 degrees in meaty part of thigh and juices run clear.
Remove from oven and tent with foil for 10 minutes. (This is IMPORTANT, as it makes the chicken stay juicy).
Meanwhile, remove garlic cloves. Take about 10-12 cloves and glently squeeze the flesh from the skin and mash.
Strain juices (remove fat) from roasting pan into a saucepan and add the mashed garlic.
Bring to a boil over medium heat.
Stir in reserved parsley.
Carve chicken and serve with sauce poured on top.
***Note*** Sauce can be thickened if you prefer using a little water and cornstarch.
***NOTE*** the left over roasted garlic can be stored in the fridge and used to spice up any meal for days later! I also use this in my chicken chili recipe.