Roast Chicken Drumsticks and Vegetables
loof751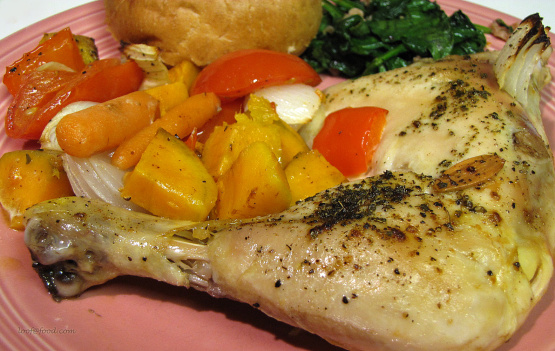 From Australian BH&G Diabetic Living

This is exactly what I was looking for...a healthy, low fat, high nutrition dish that didn't have some sort of sauce or cheese involved. I followed your instructions but added to the ingredients....lots more veggies! (orange cauliflower, eggplant, white potato, purple carrots, extra garlic amongst the veggies,) Next time, I'll use a bigger roaster and add even more veggies...maybe put a layer of kale/spinach under the chicken and add mushrooms, bell peppers, beets, or squash. This dish is so versatile that you can throw in pretty much what you have lying around in the veggie bin & it will come out delicious! Great recipe, I"mPat!.
Preheat oven to 200C fan forced.
Line a roasting pan with baking paper and put the chicken drumsticks, sweet potato, capsicum, carrot, onion and garlic in the pan and spray the chicken and vegetables with the cooking spray and then sprinkle 1 tablespoon of oregano leaves and the paprika and season with pepper and roast for 20 minutes.
Add the tomatoes to the pan and spray with cooking spray and roast for a further 15 to 20 minutes or until the chicken is cooked through and the vegetables are tender.
Drizzle lemon juice and vinegar over the chicken and vegetables and top with the oregano leaves and squeeze the pulp from the garlic cloves over the chicken and vegetables to serve.