Roast Chicken-Chinese Spiced
ImPat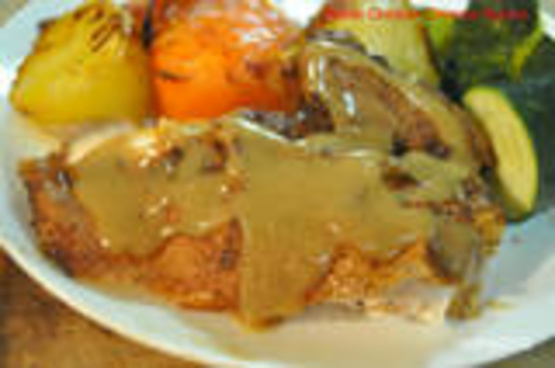 A recipe from David Herbert's "Perfect" series. Haven't tried it yet, but love all these spices. Posted so I don't lose the scrap! The cooking time includes 6 hours marinating.

Top Review by ImPat
O'kay please take note with this method of pouring the hot water over the chicken and leaving it in the fridge for 6 hours definately shortens the cooking time - I used a 1.7k chicken which I normally would cook between 2 to 2 1/4 hours but at 1 hour 45 minutes this sucker was cooked and I was thinking overdone and dry (but just saved in time maybe 10 minutes less would not have done it harm and could have been just a little bit more succulent). As I was serving this as a roast chicken (comparing to a peppered encrusted beef) I served with roast and steamed vegies and made a gravy of the juices (absolutely delicious) instead of making the dipping sauce. Thank you Aunty Dotty for a great recipe made for PAC Spring event March/April 2012.
Dry fry the two peppers over medium heat for 30-60 seconds, until fragrant and slightly coloured.
Grind them with a pestle and mortar or in a coffee grinder til fine, then combine with the salt, five spice and sugar.
Pour a kettle of boiling water over the chicken then thoroughly pat dry with paper towel. Rub spice mixture all over the chook.
Place in the fridge uncovered for 6 hours, then brush off any extra spice mix before putting in a roasting dish in a 200C oven.
Roast for 60-70 minutes, until cooked and golden. Check the doneness by piercing the flesh between the thigh and body, when juices run clear it's ready.
Serve in pieces with the dipping sauce - (just combine all the ingredients in a dish) - and some steamed vegetables.