Roast Chicken Breasts With Chickpeas, Tomatoes & Blue Cheese
rpgaymer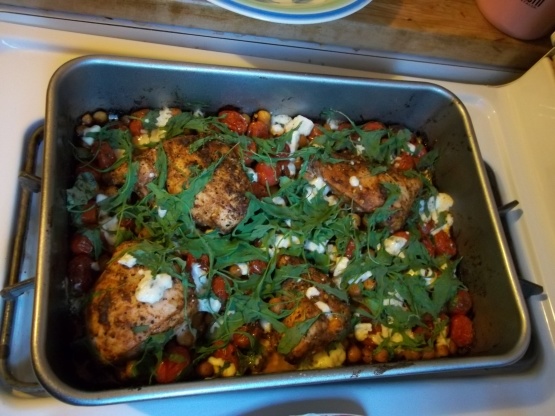 This is a beautiful dish that can be thrown together in a half hour, but the flavor and presentation makes it seem like it took far longer to prepare.

We really enjoyed this dish; especially the smoky paprika-spiced oil. The spices really complimented the tomatoes and chickpeas and of course, the chicken. Liked the addition of the blue cheese as it added a nice touch to the roasted tomatoes. It's really a complete meal with the peppery arugula, but we did serve it along with another veggie. Made for PRMR, March, 2013.
Preheat oven to 450°.
Mix the olive oil, garlic, paprika, cumin, red pepper flakes, salt and pepper in a bowl.
Place chicken on large rimmed baking sheet. Cover with oil mixture and toss to combine well. Add chickpeas and tomatoes and stir until everything is well-coated with the spiced oil.
Roast for 15 minutes. Remove from oven, then top with the blue cheese and arugula. Cook in the oven for a further 5 minutes, or until the arugula has wilted and the chicken is cooked through.