Roast Capon With Chili-Cilantro Rub and Roasted Carrots
Bergy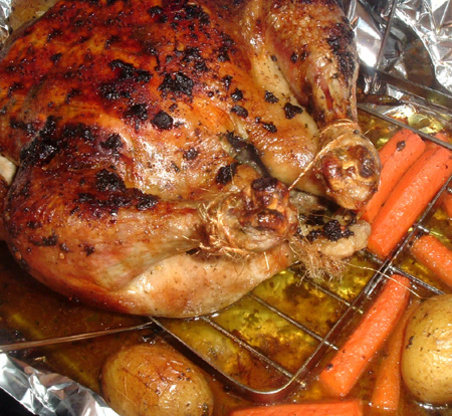 My Grandma used to make roasted capon all the time. She preferred to make capon instead of chicken so when I saw a capon recipe it caught my eye. Grandma would never use these spices but I would! I clipped this from a cooking magazine but not sure which one. Total time from start to finish is 3 1/2 hours.

Top Review by Bergy
This recipe is better than a 5 star! I could not find a capon, they are very scarce these days so I substituted a roasting hen. Wonderful flavor. I didn't put the carrots in until there was only 1 1/2 hours left to roast and I added small potatoes too. The chicken was so moist and just the right amount of added spice. We truly enjoyed out Christmas dinner Thanks for posting Oolala
Rinse capon and snip away any excess fat from cavity using kitchen shears.
Pat capon dry and season with salt inside and out.
Let stand at room temperature for 30 minutes.
Preheat oven to 375 degrees F.
While capon is standing, mash garlic to a paste using a mortar and pestle.
Add cilantro, chile powder, cumin, and butter and mash to a paste again.
Arrange capon, breast side up, with neck toward you, and gently work your fingers between skin and flesh of the breast, working your way down to thighs.
Rub 1/3 of the butter mixture under skin of breast and thighs and rub another 1/3 into the cavity of the bird, then tie the legs together with kitchen string.
Put capon in a buttered roasting pan.
Scatter carrots around bird and season with salt and pepper.
Pour water over the carrots.
Roast in middle of the oven 45 minutes.
Remove pan from the oven and brush top and sides of the bird with the remaining 1/3 of the butter mixture.
Continue to roast basting capon and carrots with pan juices every 20 minutes (tent capon with foil if it gets too brown), until a thermometer inserted 2" into fleshy part of a thigh registers 170 degrees, about 2 hours more.
Transfer carrots with some of the pan juices to a heated serving dish and keep warm, covered.
Let capon stand 20 minutes before carving.