ImPat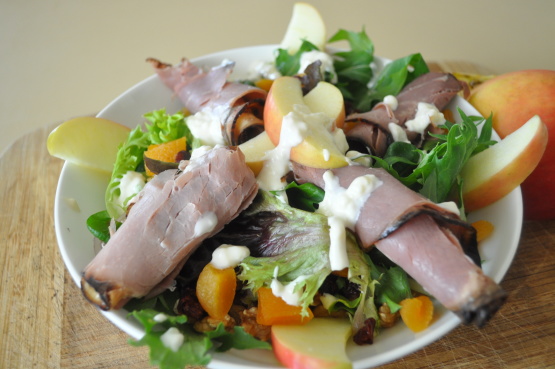 Many classic Waldorf ingredients are seen in this salad, but a few new entries make it bold and interesting. The horseradish in this dish provides a tangy "bite," but the dried fruit brings it back in balance with a sweet touch.

Top Review by ImPat
A wonderful salad to eat and to look at full of flavour and texture and the dressing flickered over the greens and the sweet fruit and the crunch from the celery and walnuts and thinly sliced roast beef made for a very satisfying lunch, thank you A.B. Hall, made for PAC fall October 2011.
6 -8

ounces roast beef, rare and sliced (quality matters here, for this dish I go for rare, sliced RB from Whole Foods)

1

cup greens (field greens, about two small handfuls)

5 -6

sprigs fresh cilantro

2

stalks celery
1⁄4 cup red onion (4-5 thin slices)

1

small apple (Fiji is my choice for its sweet taste)

3

tablespoons low-fat mayonnaise

2

tablespoons low-fat yogurt

1

tablespoon horseradish (Bottled, white. Can often be found in the refrigerated section near the dairy products)
1⁄2-1 teaspoon lemon juice, fresh
1⁄4 cup dried fruit (i.e. raisins, dried cranberries, dates, etc.)
1⁄4 cup walnuts, chopped
1⁄4 teaspoon salt (about two dashes)
1⁄4 teaspoon pepper (about two dashes)
Chop the sliced roast beef into 2-inch chunks.
Finely chop the cilantro and celery.
Cut 4-5 thin slices from the red onion.
Remove the apple's core and, skin intact, cut the apple into 1-inch pieces.
Squeeze ½-1 tsp juice from the lemon.
Combine all the ingredients in a medium bowl, stir/toss and serve.
Serves four as a small dish or serves two as a large dish.