Roast Beef Panini With Horseradish Mayo
CJAY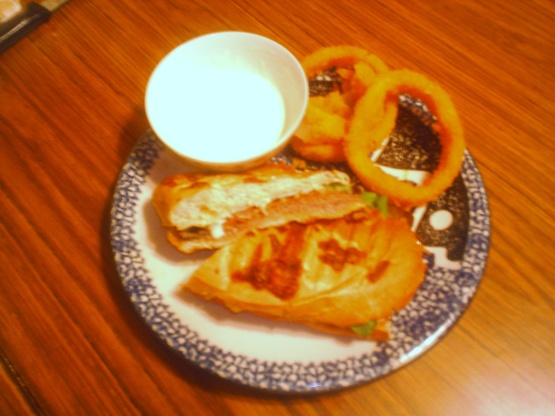 This recipe can be made in a panini maker, a George Foreman type grill or a ridged grill pan on the stove. Put foil around a slightly smaller pan and use it to press the panini down. Use whatever cheese you like or happen to have at home - a creamy Havarti goes nice with it - as well as leftovers from a roast or steaks.
8

slices of rustic country bread
1⁄2 cup mayonnaise (or more if you like mayo)
1⁄4 cup prepared horseradish sauce
1⁄2 lb roast beef or 1⁄2 lb leftover steak, thinnly sliced

1

red pepper (optional)

8

slices tomatoes

8

slices havarti cheese (or your favorite)

2

teaspoons olive oil (o brush the bread)

1

garlic clove (to rub on bread)
Combine mayonnaise and horseradish in a bowl, set aside.
Brush the bread slices on the underside with olive oil and rub a clove of garlic over them.
Lay them out in front of you, oil side down and spread the horseradish mayo on each slice.
Top with roast beef, pepper rings, tomato and cheese. Fold together.
Put in a grill pan and use a smaller frying pan to weigh it down.
Turn and brown on the other side.
Cut in two, garnish with salat greens and herbs
Enjoy!