Lynz68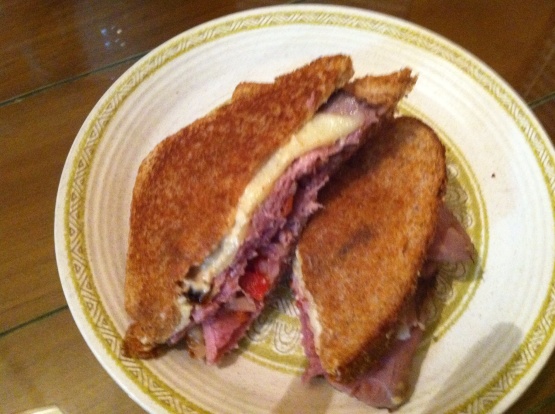 This features sun-dried tomato mayonnaise. Yum! From Cuisine at Home magazine.

Outstanding sandwiches. I made this for a group of 10, plus 3 children under the age of 6. The whole family loved them and they are very filling. I followed the recipe to the 'T'. Some folks did not want the spicey onion relish. Everyone else loved the relish. I made Leek Potato soup from Alton Brown to go with it. The combination was excellent, highly recommended.
Mix mayonnaise, tomatoes, garlic, horseradish, ketchup, and cayenne in small bowl.
Toss onion, peppers, pepper flakes, and some juice from the peppers in another bowl. Let it stand for at least 5 minutes for flavors to blend.
Spread butter on one side of each slice of bread, and spread mayo mixture on the other side. Sprinkle cheese on two slices, top with roast beef, then some of the salad mixture, then the other slice of bread, butter side up.
Toast sandwiches in George Foreman grill or in a skillet using another heavy skillet or foil-wrapped brick as a weight. (Cook over medium heat. When first side is browned, flip over and cook the other side, weighting again.).