Roast Beef Horseradish Spirals
GaylaJ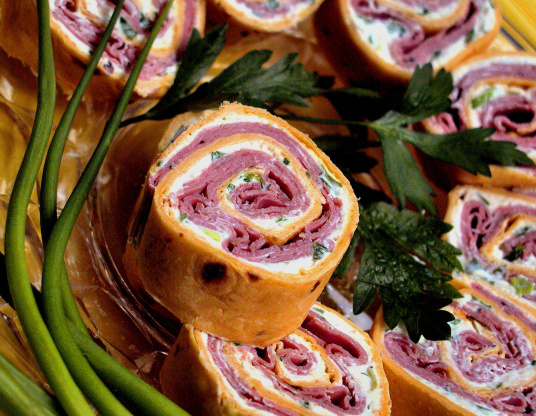 Very attractive looking appy! and good too. Had some ladies over for a "crafty evening", making little Christmas thingies, the spirals went over big, and the ladies took the recipe, from "Women's world".

Excellent! I wouldn't change a thing. However, I ended up using 3 tortillas. It's very important to not place the roast beef close to the edge because your rolls won't "seal" if you place it clear to the edge.
Combine first 6 ingredients.
Place the two tortillas on work surface, spread half of cheese over each, top each with half of the roast beef slices, leaving a 1/2 inch border around edges.
Roll up, wrap tightly in plastic wrap.
Refrigerate until firm, 30 minutes or up to 1 day ahead.
cut diagonally into 1/2 inch slices and serve.