Roast Beef Dinner Enchiladas (Lite-Bleu)
loof751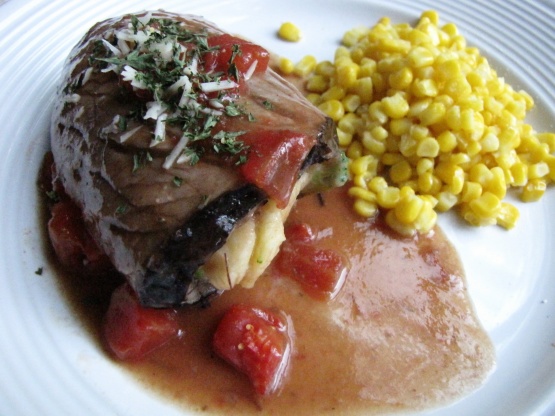 A great dinner all rolled up into one and baked in a casserole dish. This is a great recipe for using up leftovers, and looks elegant too.

I'm with loof on this one ~ Definitely a wonderfully satisfying comfort food! I did cut the recipe in half for just the 2 of us, but other than that, followed it right on down & was very happy with the great meat-potatoes-&-veggies-all-rolled-into-one dinner! Thanks for a great keeper recipe! [Tagged & made in Please Review My Recipe]
Pre-heat oven to 350°F In a medium saucepan, heat the oil and add the onions and garlic. Cook for one to two minutes. Add gravy, tomatoes, and italian seasoning.
Meanwhile, heat potatoes and gently fold in broccoli and carrots. To each slice of roast beef, spread about 1/2 cup of the potato mixture and roll up. Place beef rolls, seam side down, in a baking dish sprayed with non-stick cooking spray.
Spoon gravy mixture over beef rolls, cover and bake for 20-25 minutes. Uncover, sprinkle with parsley and parmesan, and serve.