Prep 25 mins
Cook 3 hrs 30 mins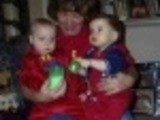 This is the meal that I said in my About Me page that is my favorite to come home to after church on Sunday. The whole thing (meat, gravy, vegies) is ready. You can add a salad, rolls and/or green beans if you want - but not necessary. And the house even smells yummy. It also works for an evening meal (if you can put it on in the mid afternoon). It can cook while you take a walk, nap, shower, and read a book. Preparation time is mainly peeling the vegies (which I often do the night before.)
3 1⁄2-4 lbs roast (7-bone, or boneless chuck)
meat tenderizer (I prefer Adolphs)
2 (10 3/4 ounce) cans condensed cream of mushroom soup
1⁄2 can water
8 -10 potatoes
8 -10 carrots
1 -2 onion
Directions
Peel the potatoes, carrots, onions.
Rinse clean.
Sprinkle one side of the roast heavily with Adolps, prick with a long handled fork in several spots.
Place sprinkled side down in a hot roaster.
Sear for about 1 minute.
Sprinkle top side with Adolphs, prick.
Turn and brown other side.
Take off heat.
Empty the two cans of mushroom soup on top of the roast.
Pour about 1/2 can of water on the bottom of the pan.
Place clean, peeled vegetables on and around the roast.
Cover with lid.
Gravy will be ready in the bottom of the pan when through cooking.
Bake at 325 degrees for 3 1/2- 4 hours.
Left over meat and vegetables can be cut up and warmed in left over gravy thinned with water, later in the week, for a quick stew.
Most Helpful
We loved this recipe!! My DH says it's a "keeper". It was very easy to make especially because I replaced the carrots with baby carrots and the onions with thawed pearl onions and the potatoes with baby reds. I didn't need to peel anything...and just needed to quarter the potatoes. Also, I used Marie's suggestion and dredged it in flour before browning. Lastly, used the crockpot instead of roaster. It was in there for 6 hours. I threw all the veggies in for the last 2 hours. We had tons of gravy! This was excellent!
Lordy, you can add me to the list of cooks who love this recipe! It's fantastic! I used a chuck roast, and since I was out of carrots, tossed in some broccoli. Worked out great. Nifty recipe for the tougher cuts of meat. Thanks for sharing this one...We really enjoyed!

This recipe tastes great! It's a HIT for the whole family! Leaves you smackin' your lips for more!