ChefDLH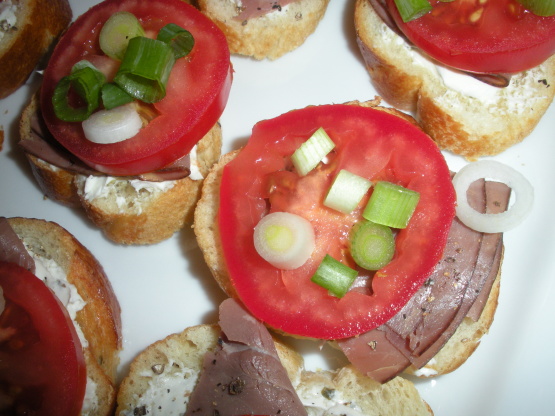 This recipe is adapted from Betty Crocker's Quick & Easy Cookbook.

Yum! The name of these scared me a little at first, but they are so delicious and fresh! I will definitely be making them again. Everyone loved them and there were none left at the end of the night.
Heat oven to 375 degrees.
Brush both sides of bread slices with oil.
Place on ungreased cookie sheet.
Bake about 5 minutes or until crisp.
Cool 5 minutes.
Meanwhile, cut each tomato into 6 slices; set aside.
Spread cream cheese over each bread slice.
Top with beef; sprinkle with pepper.
Top with tomato slices and onion.