jonesies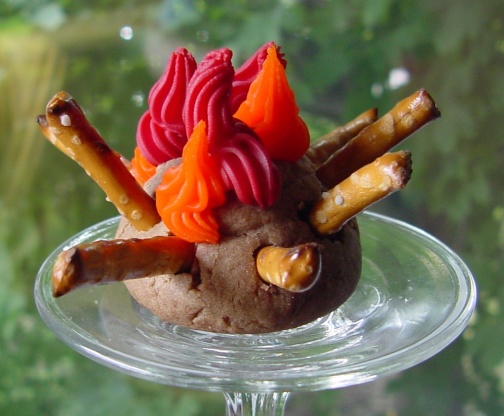 An easy to make treat that looks like mini campfires. Great for Scout events, camping or bonfires. Very cute!
510.29

g packagerefrigerated peanut butter cookie dough

177.44

ml all-purpose flour

29.58

ml unsweetened cocoa powder

473.18

ml pretzel sticks (the thin kind, broken into pieces)

120.48

g packagedecorator icing (yellow color with decorating tip)

120.48

g packagedecorator icing (orange color with decorating tip)
Preheat oven to 350°F
Lightly grease cookie sheets.
Let dough stand at room temperature about 15 minutes.
Combine dough, flour and cocoa in large bowl; beat until well blended.
Shape dough into 1-inch balls; place 2 inches apart on prepared cookie sheets.
Bake about 7 minutes or until set. Immediately press pretzel pieces into sides of cookies to resemble campfire logs. Carefully remove to wire racks; cool completely.
Using decorating tips, pipe yellow and orange icing onto cooled cookies to resemble flames.